OK, it's not quite the cliffs of Dover but what I needed to build is a removable piece of scenery in front of the electrical panel.  In part 1 I'll show how I did the cliffs themselves and part 2 will cover the scenery involved around the tracks and still have the section removable.
First off, here is the bare canvas or the starting point.
Seeing as the removable section is only 2″ deep, 1″ thick foam was used to create the land form.   Seeing as the tunnel portal/retaining wall is a major feature along this section and will determine the final height of the section it was put in place.
Using a pencil a rough outline of the top of the cliff was added to the foam and then cut out.
The second layer of foam is cut out and glued to the back layer.  At this point I glued the retaining wall to the foam.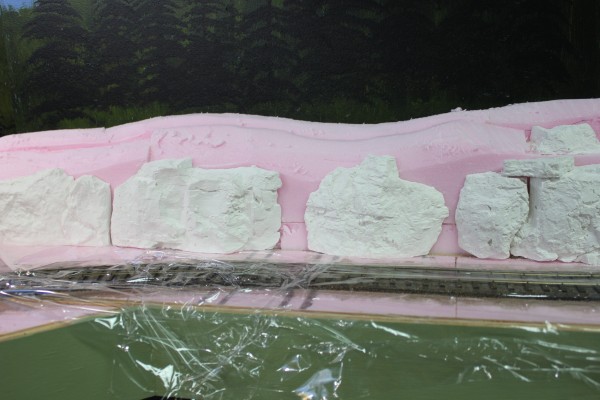 Saran wrap was added between the removable section and the roadbed so that glue and such will not "glue" the removable section to the roadbed.  I made some rock castings using  some of the rock molds I acquired years ago that are made by Woodland Scenics.  Plaster of Paris was used as the casting material.  These castings were glued to the foam using white glue.
Spackling compound was  used to fill in the areas between the rock castings.  Not sure if I would so this again as the spackling compound took a couple of days to thoroughly set.
I also has some of Woodland Scenics' pigments that I wanted to try out.  To start, a wash was made using "slate grey" and everything was given a coat of this wash.  I then made up washed of  "raw umber" and "burnt umber" and stained portions of the rocks.  Interesting side note was that the plaster of paris and the lightweight spackle took the stains differently which further added to the variety of colour.
Titanium white was then dry brushed on the rocks to blend everything together.
"Greenery" was added to the top of the cliffs and to the nooks and crannies on the rock face.  The evergreens and other trees are Woodland Scenics products and the ground cover is a combination of Woodland Scenics and Scenic Express products.
An overall view of the cliffs.
That's it for part 1